Tribal Brothers – Fear EP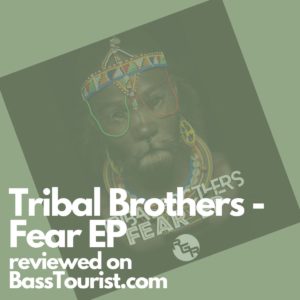 The Tribal Brothers (LR Groove and Razzler man) named "Lion Attack" accurately. The intro sneaks in with pace and space, traps you with dry snares, and before you know it, you're caught up in a drum workout sand devil. The tornado tosses you into thin air, grunts and percussion pelting you from every direction, and doesn't put you down for another five minutes. The break downs are tension and release, perfected. Call it tribal or UK funky, I hope to hear Lion Attack everywhere this summer. Gorgeous.
"Walking Warrior" feels like a ghom remix of Lion Attack. The two mix together perfectly, joining like Voltron in the style of an 80's twelve-inch extended mix. In fact, we're two minutes in before the bass drops. It's sooo  satisfying. If you need a segue from ghom to funky, house or whatever, this is your tune. Just give it time to breathe. You won't be disappointed.